12 – 20 Brown or White Mushrooms
1 Tablespoon olive oil
2 Cloves of Garlic
¼ Cup of finely chopped red onion
½ Cup Cheddar Cheese or Blue Cheese
½ Cup Walnuts copped
¼ Teaspoon cayenne pepper (Optional)
Black pepper to taste (Optional)
A family favorite, my mother would serve these appetizers to our guests arriving for Thanksgiving dinner. She prepped the stuffed mushrooms a couple hours ahead and then put them into the oven as the first guest arrived.  I normally fix 1 – 2 mushrooms for each guest and have never had leftovers.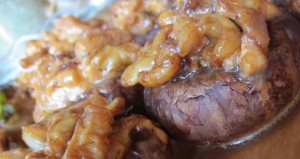 Directions
Preheat oven to 350 degrees F (175 degrees C). Spray a baking sheet with cooking spray or lightly oil with olive oil. Clean mushrooms with a paper towel. Carefully break off stems. Chop stems extremely fine, discarding tough end of stems.
Heat olive oil in a medium skillet over medium heat. Add onion, garlic and chopped mushroom stems to the skillet. Cook until onions are translucent and moisture from mushroom stems has disappeared.
Stir in Cheddar or Blue cheese, Walnuts, black pepper  and cayenne pepper. Mixture should be very thick. Using a spoon, fill each mushroom cap with a generous amount of stuffing. Arrange the mushroom caps on prepared cookie sheet.
Bake for 20 minutes at 350 degrees in the preheated oven, or until the mushrooms are piping hot and liquid starts to form under caps.