Chocolate Almond Cake
2 ozs Green and Blacks Unsweetened Baking Chocolate
3 Tablespoon Filtered Water
6 Tablespoon Butter at room temperature (Coconut Oil)
1 1/2 Cups Raw Sugar
1 Teaspoon Vanilla Extract
2½ Cups Organic Pastry Flour
2 Teaspoon Baking Powder
¾ Teaspoon Baking Soda
¾ Teaspoon Sea Salt
1 Cup yogurt (can use vegan yogurt)
1 Cup Milk (can use soy or Hemp Milk)
Cake Frosting
½ Package 12 oz Semi-Sweet Chocolate Chips
2 Teaspoons Almond Extract
An Eggless Cake Recipe with a history: When I moved to the Midwest it became apparent that in order to please my mid-western family and friends my cakes needed to ramp up to the American Dream of fluffy. When I baked my friends would say "hmmm, another healthy cake". And they did not intend that to be a compliment.
The constraints were set, if I intended to please them the cake needed to be not only eggless but also fluffy, delicious and tender rather than substantive. Substantive had been totally acceptable back in New England, in fact, it was highly prized. But not here. I went to work and the result is what you find below. Quite literally this was a project that took years to perfect.
Yes, an Eggless Chocolate Almond Cake — A marriage of rich chocolate and tangy yogurt, a secret ingredient to maintain its unique moisture. Grease and flour two 9" cake pans – Grease and flour the bottom and sides as well.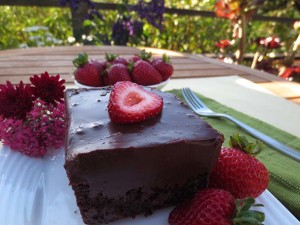 Directions:
Preheat oven to 350º
Melt the Baking Chocolate in the Filtered Water over low heat, stirring constantly. Set aside to cool. Cream Butter and Sugar for ten minutes in your mixer until it is light and fluffy. Add the cooled melted chocolate and vanilla to the creamed Butter and Sugar. Sift together all of the dry ingredients.
Spoon the dry ingredients to the Chocolate mixture alternately with the yogurt and milk until it is all incorporated. Scrape the sides and bottom of the bowl periodically. The batter will be thick.
Spoon the batter into the pans, spreading it out evenly. Bake for 40 minutes or until a toothpick inserted into the middle of the cake comes out clean.
Cool on wire racks for ten minutes before, using a flat spatula to loosen the cake from its sides, turning them out to cool.
Melt Semi-Sweet Chocolate over low heat and frost cake and fill if you wish.
Enjoy!
Recipe by Bette Drew