1 Package Organic Cranberries washed
1 Orange with peel, cut in slices and remove seeds
1/2 Cup Raw Sugar, Agave or honey (add more to taste)
2 tsp. Cinnamon (add more to taste)
Dash of Sea Salt
This is one of my favorite cranberry sauces and it's so easy to make and healthy. I estimated 15 minutes to make but really you can do it in less time than that. If you are making a Raw Thanksgiving dinner this is the cranberry sauce for you but you'll like it even if you have prepared a cooked meal.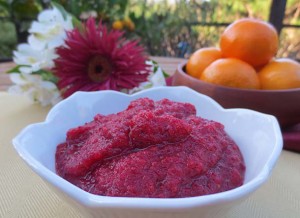 Directions
Wash a package of cranberries and drop into the blender,

Cut up your orange with the peel

 

on, take out the seeds and add to your cranberries in the blender.

Add sugar of choice, cinnamon and a dash of salt all to taste and blend until well everything is mixed together and smooth.