Tofu Taco Filling
1 Package extra-firm tofu, drained and sliced into small pieces
4 Garlic Cloves, finely chopped
¼ Cup Low Salt Soy Sauce
2 Tablespoons Agave
2 Teaspoons Roasted Sesame Oil
1 Tablespoons Gochuhang (Korean fermented hot pepper paste)
½ Teaspoon Korean Red Pepper Powder
2 Tablespoons Tomato Paste
½ Teaspoon Liquid Smoke
1 Heaping Tablespoon Toasted Sesame Seeds
1 Scallion, finely chopped
2 Tablespoons of broth from Kombu Seaweed (optional)
2 Tablespoons Peanut Oil for cooking
Cilantro Asian Pear Slaw Topping
1 Asian Pear (Alternative Mango)
2 Cups Napa or Savoy Cabbage, finely chopped
½ Cup Cilantro
1 Jalapeno Pepper, roasted and finely chopped
1 Scallion, finely chopped
1 Tablespoon Raw Sugar
½ Teaspoon Salt
2 Tablespoons Fresh Lime Juiced
Building Tacos
6 Corn Tortillas
1 Avocado, sliced
Soybean or Mung Bean sprout Namul side
Surf the web for Korean Tacos and the top listings refer to Kogi Korean BBQ truck. It's located in Los Angeles and is known for having one of the best Vegan Korean Tacos. Everyone is trying to recreate this most perfect delicacy that is a fusion of Mexican tacos and Korean BBQ. Korean BBQ has a sweet and mildly spicy flavor that can be enjoyed by all. I fell in love with Korean food when I traveled there in the mid-90s.
One key component to the making great Korean Tacos is the slaw that accompanies the spicy tofu mixture. I offer two ways to make the slaw, one is to use Asian pears and the other alternative is to use mangos cut long and thin. During the summer months you could experiment with different fruits such as peaches as well.
Koreans are known for their kimchee, fermented veggies of all kinds and spicy BBQs. The monks don't eat meat in the temples, so they developed yummy vegan and vegetarian dishes. I served soybean sprout namul with our Korean tacos.
Directions:
In a large bowl add garlic, soy sauce, sugar, sesame seeds, sesame oil, gochuhang, Korean red pepper powder, tomato paste, liquid smoke, scallions, Kombu broth (if desired, see #2) and mix well. Then add in the small tofu cubes. Marinate for 1  hour occasionally gently stirring to ensure tofu is coated evenly.
If desire a hit of fish taste soak 3 X 4 inches of Kombu seaweed cut up into pieces small enough to fit into a small bowl of 1 cup of water. Soak for 3 – 4 hours. (Can make  before and stored in refrigerator up to 4 days.)
To make the pear slaw, cut the jalapeno pepper long ways in 4 pieces. Remove seeds for less heat. In a small frying pan lightly roast cut jalapeno peppers (until soft but not charred). Place on cutting board to cool then finely chop and set aside. In a large bowl cut pear in half and remove the core leaving on the skin, use either grater or food processor to coarsely grate. Add cabbage, cilantro, jalapeno peppers, scallions, agave, and salt. Add lime juice and stir well.
Over medium-high heat, pour peanut oil in a wok or big frying pan and heat. Grill tofu mixture, gently stirring to make sure it's cooked well but doesn't break up the cubes. Turn off heat and let cool just a bit but keep warm.
While cooking tofu, warm up Corn Tortillas in oven or toaster over at 200 so warm but not hard approximately 3 – 5 minutes.
To serve, place a row of tofu (without excess sauce) in the center of each corn tortilla, add a couple spoonfuls of the pear slaw and top with avocado. Drizzle sauce from tofu mixture.
Serve with about ½ cup of Sprout Namul
Enjoy!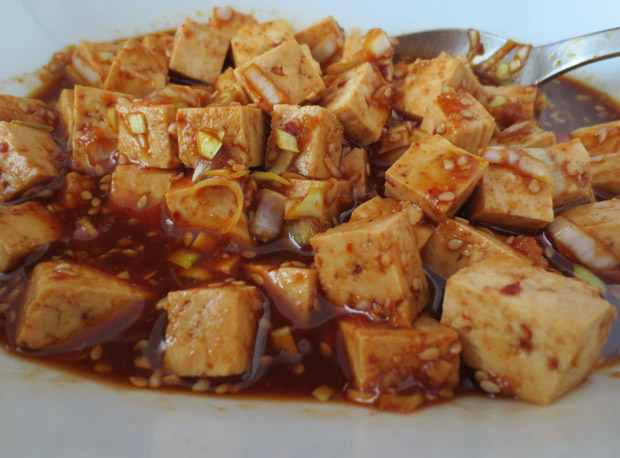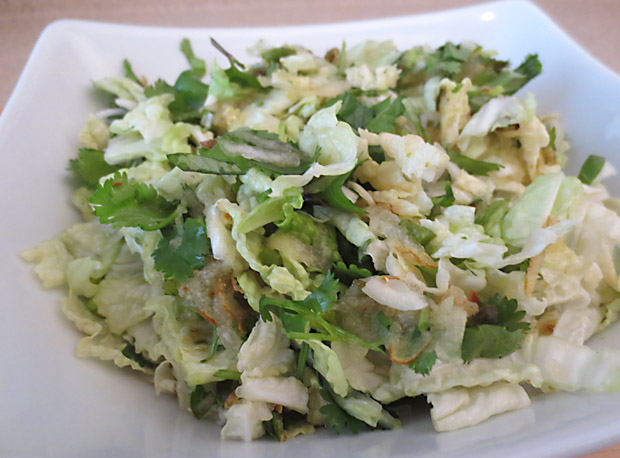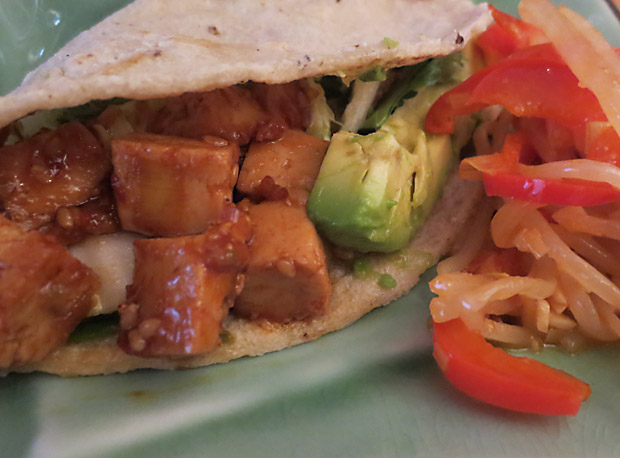 Korean BBQ Wrap
You can also use seaweed or rice wraps shown below.